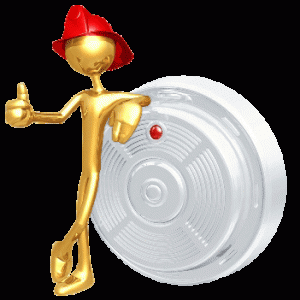 "Three minutes. That's how much time families have on average to get out of their homes after an alarm from a smoke detector.* However, those life-saving minutes only occur when detectors are fully powered and operational."
These are the opening lines of an article from The International Association of Fire Chief's website (a link to the entire article can be found here.) Smoke detectors have had a profound effect on reducing deaths from fire as you can see in these highlights from an NFPA study:
-Smoke alarms provide an early warning of a fire, giving people additional escape time. In 2009-2013, smoke alarms sounded in more than half (53%) of the home fires reported to U.S. fire departments.
-Three of every five home fire deaths resulted from fires in homes with no smoke alarms (38%) or no working smoke alarms (21%).
-The death rate per 100 reported home fires was more than twice as high in homes that did not have any working smoke alarms compared to the rate in homes with working smoke alarms (1.18 deaths vs. 0.53 deaths per 100 fires).
-In fires in which the smoke alarms were present but did not operate, almost half (46%) of the smoke alarms had missing or disconnected batteries.
-Dead batteries caused one-quarter (24%) of the smoke alarm failures.
Homes include one- or two-family homes and apartments or other multi-family housing.
It's clear that very little effort on your part can have an enormous effect on the safety of you and your family. If you need smoke alarms installed or assistance with changing your batteries, Decatur Fire and Rescue is available to make sure you have functioning alarms in your homes. You can complete this simple request online and we will get back to you ASAP.