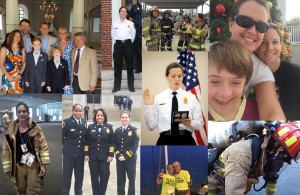 The following words were written by Captain Violante, who insisted they would require heavy editing. We didn't want to cut a thing from it.
"I grew up in Tallahassee Florida with a German mother and Italian father on 13 acres, and my infant seat sat under the pizza oven of my parents' restaurant. Both parents are very hard workers and I am the same height as my father at 5'2, so I never thought I could not do anything because I was female or semi-short. I played sports from the time I could walk- soccer, basketball, tennis, volleyball and softball. I was a straight A student and played all five Varsity sports in high school (and was Homecoming Queen –shhhhhh).
I always wanted to help people because that is the personality of my family. I went to Emory and played Soccer, Basketball, Cross-Country and Track. I trained for Officer Candidate School with the Marines and went to OCS between my Junior and Senior year of college. I declined my commissioning to become 2nd Lieutenant and went to California after graduation to work with people with HIV/AIDS. I found out I could not do much unless I volunteered or received my Masters degree. I got my personal training license. I worked in the TransAmerica building with an investment banking company, Montgomery Securities, of which I knew nothing. I saved up enough money to pay a company to let me go to Kenya and volunteer to do HIV/AIDS work.
I traveled more and returned to Emory to get my Masters in Public Health, with an emphasis in Policy because I thought it would be the greatest way to implement change. I went to Cuba to analyze their health care system. I graduated and wanted to work for CARE or WHO or the Carter Center. I could not get a job. I was temping with Randstaad and working for Berth Hunt. I had conversations with people and they suggested I put in for a firefighter position. I never knew any firefighters. I knew nothing of the job. I began thinking of how I could help people and my background in fitness and the medical field may be fitting. I became so excited and nervous about the job.I really wanted it. I interviewed with police, fire, and dispatch but chose fire.
Everybody has challenges at work and in life. Sometimes being short or female has made it hard. Sometimes I see women being compared to each other and increasing the competition between females or being pitted against each other. Even in boot camp, my platoon never came together because we each felt we had so much to prove and no short cuts would be acceptable. I still suffer from my own demons of feeling inadequate at times, of balancing being a mom and a firefighter, and I would not have ever been successful without the support I have received from people and family. It is amazing to me that the City of Decatur Fire Department has an African American Female Fire Chief and Deputy Chief/Fire Marshal and myself in top positions, and we all support one another. I also feel that we care and support the command staff, too. I care about the department and all of its people.
I still have a hard time separating work from my personal life because my job and the department are personal to me. I feel responsible for their behavior, their satisfaction, them. In the future, I want to continue to learn and grow as I feel I am still far from where I want to be as a person, as an employee, and as an officer. It is difficult to care for a son with Down syndrome, have a relationship, work, and go to additional training needed to maintain certifications or to enhance my own performance.
But I will give it all I have."