We've been intending to introduce our outstanding and dedicated Citizens Assisting Public Safety members for quite some time…so without further delay, Gwyneth Butera!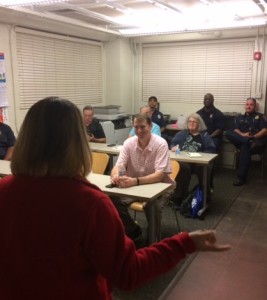 "I was in the first Fire CAPS class … I heard about the program when I was in Decatur 101 after moving to COD – though I have lived in the county for almost 20 years now (Brookhaven then Pine Lake then Decatur). My "ride-along" day was on the day the department moved into the newly redone station – our first mission was to go to public works to get toilet paper and soap 🙂 I followed with Police CAPS soon after. I also volunteer at the Red Cross. I often wonder how familiar our Fire Department is with the Red Cross and the fire programs (from prevention to recovery $$), and I'd be happy to be a contact.
More than you want to know but I'll share:
1) I have a scanner and listen to Decatur Police and Fire all day long. I hear the good and the bad. I won't ever say anything publicly, but I have lots of opinions on the communication gaps.
2) Much to my surprise, my beloved Capt Burton (now Chief Harping) married my HS senior daughter's guidance counselor (whom we also love). So yes, there's a bit of a small town feel here, and I love it.
3) I work from home (at the Artisan – 201 W. Ponce even though we are on Commerce — and I know how confusing that is). My smoke detector is unplugged (and yes, I've admitted that to Chief Harping) because it goes off when I am boiling water for pasta).
4) I have two teen girls at the high school, a husband (who bikes to Georgia Tech where he is a professor and who volunteers with the Decatur Makers), and various pets.
So, yes, FAR more than you need to know, but maybe it helps you get to know us as enthusiastic individuals….
I'd love to have "ride-a-long" weeks. Open houses for public and CAPS. Events to help DFD, CAPS, and the public to connect."
We'll work on that smoke detector issue;)